How To Make A Modern Back Yard Design On A Budget
Backyards have become increasingly popular recently, as people want to spend time outside without worrying about maintenance.
If you want to make your backyard design on a budget, there are a few things to keep in mind.
First, think about what type of yard you want. If you want a traditional backyard with a lawn and trees, you will likely need more money than if you want an open area with plants and rocks.
By knowing what backyard style you want for your home, you can better budget your finances.
What is a modern backyard design and why should you consider spending less on it?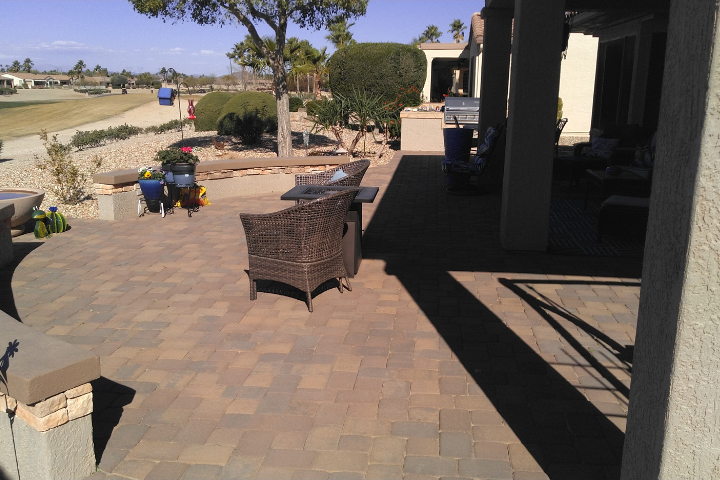 Modern Backyards & Modern Landscape design (Modern Back Yard Design)
When people think of backyards, they usually think about traditional yards with grass, trees, and a small patio. But a new type of backyard is becoming more popular – the modern backyard.
Modern backyards are typically designed with many hardwood floors, wooden deck, wooden fence, and sleek furniture. They often have a pool or spa, and they often have gardens or flowerbeds.
They're different than traditional yards, but they're also adorable. A modern backyard is probably the way to go if you're looking for a way to update your backyard without spending a lot of money.
Why Opt Out For Modern Backyard Landscaping
1 – Increase House Value
When you opt for modern backyard landscaping, you can increase the value of your home.
You may wonder if this is worth it, and the answer is a definite yes.
Here are some reasons why opting for modern landscaping can boost your home's value:
Improved curb appeal. With well-maintained landscaping, your home will look its best from the street. This will help to attract buyers and increase its sale price.
Increased security. It can help to improve your home's security features by creating a barrier between you and potential intruders. This can deter would-be thieves and protect your belongings in the event of a burglary.
Increased efficiency and sustainability.
2 – You Can Have Your Very Own Vegetable Garden
Are you looking for an easy but artistic way to improve your backyard landscaping? If so, you may want to consider installing a vegetable garden.
Having a vegetable garden can be a terrific way to add more appeal to your yard, and it's also a great way to get some fresh vegetables into your diet.
3 – Swimming Pools Are Always Fun To Have
Swimming pools are always a fun addition to any backyard. Whether you have an inground or an above-ground pool, they provide a great place for family and friends to relax and have some fun.
And of course, modern backyard landscaping can never be complete without a pool!
4- It Doesn't Have To Break The Bank
Having a beautiful and well-maintained backyard landscape is one of the best ways to enjoy your property and create a relaxing atmosphere.
However, many people hesitate to take on this project because it can be expensive.
Having Modern Backyard Landscaping done by the right company can be very affordable; we would know 😉!
What Are Some Benefits To Having Modern Landscaping In Your Outdoor Space
1 – Grass and Trees Provide Cooler Temperatures
Grass and trees can provide cooler temperatures in a landscape. Trees' leaves create shade, which can cool the ground and air by up to 5 degrees Fahrenheit. In addition, grasses and other plants help to trap moisture in the soil, which helps keep it cool.
2 – Landscapes are Good for the Air and Water
The benefits of having a landscape are plentiful. Landscapes help to improve air quality by absorbing pollutants and releasing oxygen.
This process is called "ecosystem services," which should be considered when determining whether or not to install a landscape.
Landscaping also helps to conserve water by slowing down the flow of rainwater through the soil, thus making it soak into the ground more intensely.
3 – Xeriscaping Reduces the Use of Natural Resources
Landscape design and construction can have a significant ecological impact on the environment.
Xeriscaping, or "xeriscaping," is a style of landscaping that reduces the use of natural resources by using drought-tolerant plants and water-efficient irrigation systems.
Some benefits to having xeriscaped landscapes include:
Reduced water usage – Xeriscaped landscapes require less water than traditional landscapes, making them an environmentally friendly option for homeowners.
Reduced environmental impact – Xeriscaping techniques use less land and reduce the number of pollutants released into the environment.
Improved air quality – Xeriscaped landscapes often feature low-maintenance plants that help improve air quality.
4 – Outdoor Living Areas Improve Quality of Life
Outdoor living areas offer several benefits that can improve the quality of life for those who enjoy spending time outdoors.
By providing a functional and aesthetically pleasing atmosphere, outdoor living areas can help increase productivity and morale.
Some of the key benefits of having an outdoor living area include:
Increased productivity: When people spend time outside, they are more likely to be productive. Indoor spaces are often tightly confined, which can lead to feelings of stress and boredom. Providing a spacious and comfortable outdoor area can be the best solution to help reduce these adverse effects.
Improved moods: Outdoors environments have been shown to positively impact moods, both positive and negative.
5 – Retaining Walls Prevent Erosion
Landscaping can add a significant benefit to retaining walls. Landscaping can help stabilize the wall and maintain its structural integrity by preventing erosion and promoting vegetation growth.
Properly designed and maintained landscaping can beautify an area, increasing its appeal to potential buyers or renters.
What Are Some Of The Most Common Outdoor Spaces Designs For The Backyard
1 – Fire Pit
Adding a fire pit to your backyard landscaping is a great way to add functionality and style to your backyard.
Not only can a fire pit be used for cooking, but it can also serve as an excellent centerpiece for your backyard landscape.
Adding a fire pit is a great option if you're looking for ways to update your backyard without spending too much money.
2 – Japanese Garden Beds
Japanese Garden Beds are a popular addition to any backyard thanks to their unique style and easy maintenance.
These beds are perfect for creating an exciting landscape that is both modern and elegant. They come in various shapes and sizes, so you can find one that fits your needs perfectly.
Plus, they are straightforward to care for – all you need is regular watering and trimming.
3 – Small Backyard Plunge Pool
If you have a small backyard or don't have the space for a traditional pool, consider building a plunge pool.
A plunge pool is a large container filled with water on the ground.
You can create a modern backyard landscape by planting flowers and shrubs around the pool and adding a few rocks for seating.
4 – Outdoor Kitchen
Having an outdoor kitchen is easily one of the most excellent ways to add some modern flair to your backyard landscape.
Not only does this type of kitchen provide a convenient place to cook, but it can also serve as an entertaining spot for friends and family.
If you're looking to create a cohesive outdoor space that's both functional and stylish, an outdoor kitchen is a great way to do it.
5 – Backyard Swing
A backyard swing is a perfect addition to any modern yard. It's a great place to relax and enjoy the outdoors. Backyard swings can be customized to fit your specific needs. You can choose from a variety of materials, colors, and styles.
6 – Swimming Pool
Swimming pool design is one of the most popular modern backyard landscape ideas. When designing a swimming pool in your backyard, it's essential to consider a few key factors.
First, ensure you have enough room for the pool and all the associated equipment. You'll also need to factor in the size and shape of the pool itself as well as any steps or platforms that will be required to access it.
Second, consider what type of landscaping you would like around the pool. Options include flagstone or pavers around the edge, plantings in between, or a water feature such as a fountain or waterfall.
7 – Outdoor Living Area
Outdoor living areas can come in various shapes and sizes, but some key elements are common to most. A well-designed outdoor area should include a place to sit and relax and a space for entertaining guests.
It's essential to consider the climate and terrain where your home is located when designing your backyard landscape, as well as the needs of your family and guests.
Here are some tips for creating modern backyard landscaping that will be functional and stylish.
When planning your outdoor living area, it's essential to consider the climate and terrain of your home. For example, if you live in a room with mild winters, you might not need as much outdoor space as someone who lives in an area with colder winters.
8 – Seating Area (Latest Trends)
A well-designed backyard seating area is a focal point in any modern garden. It can add comfort and functionality to the space while providing an attractive backdrop for outdoor activities. There are several options for you to create a seating area that suits your needs and style.
One option is to create an informal gathering spot with comfortable furniture arranged around a small fire pit or spa. This type of setting can be perfect for relaxing after a day spent outdoors or hosting a party.
Another option is to create a more formal seating area with bench seats and table lamps. This type of space can be used for dining or as an informal meeting spot during the day.
9 – String Lights (Backyard Lighting)
Looking for a way to add a bit more extra light to your backyard without having to go out and install an elaborate lighting system?
Then you need to check out modern backyard landscaping! Modern backyard landscaping incorporates many different kinds of lighting into the design, from traditional garden lights to LED fixtures.
While many different types of lighting are available, all of them can create beautiful effects in your yard.
Tips for creating modern backyard ideas on a budget
1. Choose the right layout
Layout design for backyard spaces can be both fun and cost-effective. You can create a beautiful area on a budget by following a few simple tips and using clever tricks.
Begin by thinking about your needs. Are you looking for a relaxing spot to read a book or catch up on some gardening? Or do you want to host a cookout or party? Consider what activities will take place in the space, and choose a layout that will accommodate them.
Consider using smaller spaces to focus on specific features if you have limited space. For example, set up an outdoor kitchen near the grill area so guests can cook their meals.
When choosing colors, be mindful of your surroundings. Bright colors might be too overwhelming if they're mixed with darker colors in your landscape or patio furniture.
2. Use sustainable materials
Sustainable materials can help make your backyard more ecologically friendly, economical, and stylish.
Here are a few tips for using sustainable materials in your backyard design:
Choose natural materials whenever possible. Wood, stone, and brick are all excellent options for the exterior of your home, as they can last for years without having to require too much maintenance on your end.
Use recycled or sustainable materials when you can. Many items ordinarily considered waste (like old doors or tires) can be used to create patio furniture, garden walls, or landscaping elements.
Consider using nontoxic paints and finishes when possible. These products should not harm the environment or your family's health and will often last longer than traditional coatings.
3. Think about your needs and wants
Do you want a backyard perfect for entertaining guests or one that you can use to relax and get some exercise? Maybe you want a backyard that's both functional and beautiful. Whatever your needs and wants, plenty of modern backyard ideas on a budget will fit the bill.
When looking for a backyard design, consider what you'll use it for the most. Some people prefer yards with plenty of space to play sports or run around; others want something they can call their own to relax in.
If you have children, think about what activities they'll enjoy most–a large yard with plenty of room to run might be ideal for them, while someone who likes to read might prefer a smaller yard with flower gardens or trees nearby.
Once you have an idea, begin narrowing down your choices
Looking For A Landscape Architect?
Are you looking for a landscape architect to help you with your backyard's modern landscape designs?
JMH Turf is here to help! We have years of experience in the landscaping industry and are dedicated to providing our clients with the best possible results.